SRI LANKA AIR FORCE 50TH ANNIVERSARY MEDAL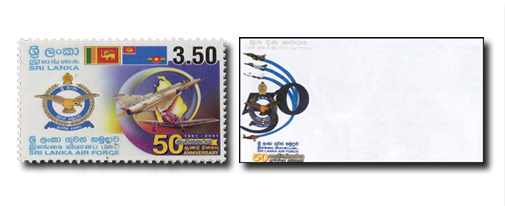 ---
The Philatelic Bureau of the Department of Posts issued a new postage stamp in the denomination of Rs. 3.50 on 9th March, 2001 to mark the Golden Jubilee of the Sri Lanka Air Force.
Technical Specifications
Date of Issue: 09th March 2001
Denomination: Rs. 3.50
Designer: D.G. Sudath Jayawardena
Format: Horizontal
Stamp Size: 40.80 x 29.85 mm
Printing Process: Offset Lithography
Perforation: 13
Sheet Composition: 100 Stamps per sheet
Printers: Secura Singapore (Pte)Ltd
Colours(used): 4 process colours
Paper: 102 gsm stamp paper
Gum: PVA
Quantity Printed: 1,000,000
CF 72 8YT,
United Kingdom.